Enterprise Networking Solutions
Belden – The World's Top Choice for Enterprise Solutions
Belden provides signal transmission solutions for virtually every area of the enterprise – from the building entrance to the rooftop, to the data center, to boardrooms, auditoriums and conference rooms, to building management and security system control rooms, and to each individual office or workstation.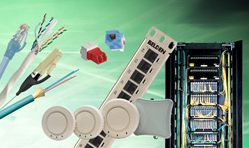 Belden offers expertise in all networking product types – copper, optical fiber and wireless. Being expert in all media gives us a distinct edge in the marketplace: it allows us to take an objective look at your application and recommend the best possible product mix to suit your immediate and future needs.Our system solutions include the following:
Belden IBDN System 10GX components include:
10GX Cables
10GX Modular Jacks
10GX Modular Cords
10GX Patch Panels
Workstation Outlets
Belden also has a 110 Cross-Connect System for Category 5E solutions. Basic components include: 110 Wall Mount Frames, 110 Wiring Blocks, 110 Patch Cords, 110 Cable Management Troughs or Kits.
All of these Belden systems lead the industry in performance and reliability. And all are backed by our highly-trained and competent partner organizations which include:
Certified System Vendors (CSVs), Belden trained and certified networking system installers, backed by the industry's most comprehensive and strict System Certification and Warranty Program
AV Installers ensure professional-grade, warranted A/V system performance
Building Management/Security Installers, using Belden top-quality cables for consistent system performance
Consultants well-trained in our Professional Support Program (PSP)
A vast distribution network, able to provide a wide variety of product when and where you need them
Workstation Outlets
To complete the installation, Belden provides a complete line of modular work area components – including outlet boxes, faceplates, inserts and adapters.