Managed Industrial Ethernet Switches
MACH100 Work Group Switches
MACH100 switches are designed primarily for the control room environment and the verge of the office world. They offer an operating temperature from 0 °C to 50 °C with fan-less cooling as well as low initial investment, high quality and durability. There are switches available with a fixed port number or as modular workgroup switches. The possible option of SFP modules increases the flexibility to cope with changes in the network in the most efficient way.
MACH1000 Ruggedized Switches
Ruggedized MACH1000 Switches offer the maximum reliability. These switches offer high port density (up to 28 ports), excellent RFI/EMI shielding under extreme conditions and great flexibility. You set up your own switch according to your requirements regarding the number of ports, transmission speed, media type, connector type, temperature range, voltage range and software variant.
MACH4000 Backbone Switches
The modular, industry-compatible MACH4000 Gigabit Ethernet system is used as an industrial backbone system, and also in applications with high data volumes, such as Voice/Video over IP. The MACH 4000 is a modular, industry-compatible Gigabit Ethernet system in a 19″ chassis that is also suitable for use as an industrial backbone system.
Magnum 6K Managed Ethernet Switches
The 6K family of Ethernet Managed Switches is ideal for industrial Ethernet applications on the factory floor, power plant, and outdoor applications. These rugged switches are designed to endure even the most extreme environments. The 6K family features fiber-rich and modular switches that can be configured with AC or DC power. The Wide selection ofport modulesmakes the 6K line of switches very flexible.
Magnum 10K Managed Switches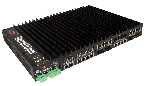 Magnum 10K Managed Switches provide the bandwidth and advanced port configurability for data-intensive utility and industrial applications such as the Smart Grid. New advanced thermal design techniques enable the 10K Family to deliver high reliability and configurability even at extended operating temperatures. Special rack-mount cooling features include Thermal Fins for extra heat dissipation and internal heat transfer techniques that use the case as a heat sink. Cooler operation of internal electronic components leads to longer life-time and increased reliability.
Magnum 12KX Managed Switches
The Magnum 12KX Gigabit Managed Switch provides 16 Gigabit ports with built-in SFPs – allowing a choice of fixed 10/100/1000 RJ-45 connectivity or fiber SFPs. With advanced bandwidth capacity, it is a workhorse backbone switch with applications in power utilities, surveillance and security, transportation, and heavy industry. With Layer 3 switching capability, based on high-performance routing using Layer 3 addressing information, the 12KX will rapidly route large amounts of data in applications using complex networking techniques such as VLANs or multicast routing strategies.
Magnum 6KL Industrial Ethernet Managed Edge Switches
The Magnum 6KL Managed Edge Switch provides configurability and robust management in an entry level industrial-grade package. The high performance 6KL base unit comes with four 10/100 copper ports (which may be either regular or PoE). Up to four 100Mb fiber ports or up to four more 10/100 copper ports or combinations, may also be configured. In addition, one or two Gb ports may be configured as 10/100/1000 copper or SFP fiber in any 6KL base unit.
Magnum 6KQ and 6KQE Industrial Ethernet Managed Switches
Magnum 6KQs are ideal for building a switched, hardened Ethernet network infrastructure, connecting edge devices such as PLC's and IED's with upstream switches or routers. These Edge Switches are designed for use in industrial applications such as factory floors and control cabinets, industrial video surveillance systems with PoE, power utility substations, or transportation.
Magnum 6K16V Industrial Ethernet Managed Switches
The Magnum 6K16V Managed Fiber Switches provide modularity of fiber and copper ports and comprehensive management software in a convection-cooled, vertically-mounted package. These heavy-duty Ethernet Switches are designed for harsh conditions and temperatures ranging from -40°C to 85°C. All DC options including 24V, -48V, 125V, and 250V as well as, AC are available. With DIN-Rail mounting, the hardened Magnum 6K16V is a "go-anywhere do-anything" Industrial Ethernet Switch. Gigabit port modules are also available.
RSB20 Series Basic Managed Industrial Ethernet Switches
The RSB20 series of managed switches consists of eight core models, each of which are optionally available in high temperature configurations and/or preconfigured with IGMP Snooping initially active (multicast filtering) for Ethernet/IP use. These switches offer redundant DC power inputs and a variety of multi-mode (SC), single-mode (SC), and SFP socket options. The RSB20 portfolio offers users a quality, hardened, reliable communications solution that provides an economically attractive entry into the segment of managed switches.
MS20/30 Managed Modular DIN Rail Mount Ethernet Switches
The MS20 series of Ethernet switches have eight to twenty-four 100 Mbps max ports. Fully managed (web, SNMP and CLI) IGMP snooping (multicast filtering), VLAN, port mirroring, port control, port security, link alarms, broadcast limiter, traffic diagnostics, HIPER-Ring redundancy, RSTP, etc. The MS30 series of Ethernet switches have the same functionality and features as the MS20 series, with the exception of an added slot for a Gigabit Media Module.
MS Media Modules
Industrially compatible, flexible, economical and future-safe. Regardless of standard or configurable switches, the modular structure pays off especially in the long term: MS Switches and media modules offer you maximum flexibility and therefore perfectly prepared for the growing network demands of the future.
MS4128 Gigabit Layer 2/3 Switches
MS4128 Gigabit Layer 2/3 Switches are for applications that require a more powerful and feature-rich switch, Similar in functionality and features to the MS30-16. The MS4128 offers up to twenty-eight ports of any copper/fiber mix, but adds two additional Gigabit ports (for a total of four) and an option to have Layer 3 routing capabilities.
OCTOPUS Switches
Hirschmann IP67/54 OCTOPUS switches can withstand the most severe stress due to their extremely robust design. This ensures fail-safe data communication even in demanding environments. These IP54-IP67 Ethernet switches with or without management functions guarantee the high availability that is required in demanding automation systems environments. These rugged switches fit well in environments with network redundancy. PoE models are available. From 5 to 24 Fast Ethernet ports, fiber optic uplink ports optional, Gigabit models are available.
Magnum 6KM Mobile Ethernet Switches
Magnum 6KM Mobile Ethernet Switches are the first industrial-grade switches purpose built for mobile networking applications. Where mission critical networks are vehicular and subject to continuous motion and vibration while in operation, Magnum 6KMs are the choice. Designed to travel and built with military-style M12 connectors, 6KMs withstand shock and vibration in the harshest of mobile environments, but do not carry the excessive cost of mil-spec waterproof products.