Industrial Ethernet Routers
EAGLE20 Series Industrial Firewall/VPN Router System
The EAGLE20 is a high speed VPN, firewall, and routing solution all in one package that allows users to achieve the highest level of security for industrial Ethernet networks. All security functions are integrated into the self-contained independent EAGLE20 platform, eliminating the need to reconfigure the system being protected or install additional drivers or software. Integration, regardless of the application or operating system, is easily done with the learning mode and default one-way communication.
EAGLE Tofino Industrial Firewall/VPN Router Systems
The Tofino Industrial Security Solution is a distributed security solution that quickly and cost-effectively implements cyber security protection within your control network. Tofino's flexible architecture allows you to create security zones – Zone Level Security – throughout your control network to protect critical system components. Tofino helps you meet and exceed NERC CIP requirements and ANSI/ISA-99 Standards. And best of all, it helps you avoid expensive down time and achieve optimal performance in your plant.
EAGLE20-0400 and EAGLE30-0402 Multi-Port Firewalls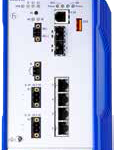 The Hirschmann EAGLE20-0400 and EAGLE30-0402 have extended the number of ports in a single firewall. The EAGLE20-0400 and EAGLE30-0402 are the first firewalls on the market in a convection-cooled DIN Rail housing which supports six LAN ports – two of which are Gigabit. Available in two versions, the EAGLE20-0400 firewall supports 4×100 Mb/s ports, while the EAGLE30-0402 firewall supports 4×100 Mb/s ports and 2×1 Gb SFP ports.
Magnum DX40 Serial Device Router
The Magnum DX40 Serial Device Router supports two serial interfaces and two Ethernet ports, one or both of which may be fiber or both can be 10/100 copper. It combines features of a serial device server, Ethernet switch, IP router, and state-of-the-art firewall in a single product.
Magnum DX940 Configurable Industrial Cellular Router
The versatile Magnum DX940 Configurable Industrial Router with Cellular combines WAN access, IP routing, Ethernet switching, Serial-to-IP terminal services and advanced security features in a small-footprint industrial package suitable for small and mid-sized remote sites such as electrical substations, renewable power generation facilities and transportation control pedestals. With 3G wireless capability, as well as configurable port options for 10/100 and one Gb copper and fiber media, the DX940 secure access even where wire-line is too difficult or too expensive to deploy.
Magnum 10XTS Router Terminal Servers
Magnum 10XTS base unit, configurable substation hardened, managed router/terminal server/Ethernet switch. Each unit offers up to eight Ethernet or twenty-eight serial ports as well as two E1/T1 WAN ports and offers dual hot-swap power supplies.